Congratulations on investing in yourself and getting hair extensions, they're a fun and beautiful way to add length and volume to your look with ease! Now comes the important part, looking after them to keep them looking their best between hair appointments. We're glad you found this blog post, we're giving you all of our tips and tricks to maintain hair extensions at home.
Our Tips and Tricks
It's essential to form great habits when it comes to maintaining hair extensions, not only will they safeguard your investment, but your hair (and hairdresser) will thank you for it.
Daily Brushing
We highly recommend brushing your hair 2-3 times daily to prevent tangling. Incorporate brushing into your morning and evening routine and during the day where possible. Think of it as a mindful therapeutic practice that allows you to connect back to the present moment and yourself a few times per day.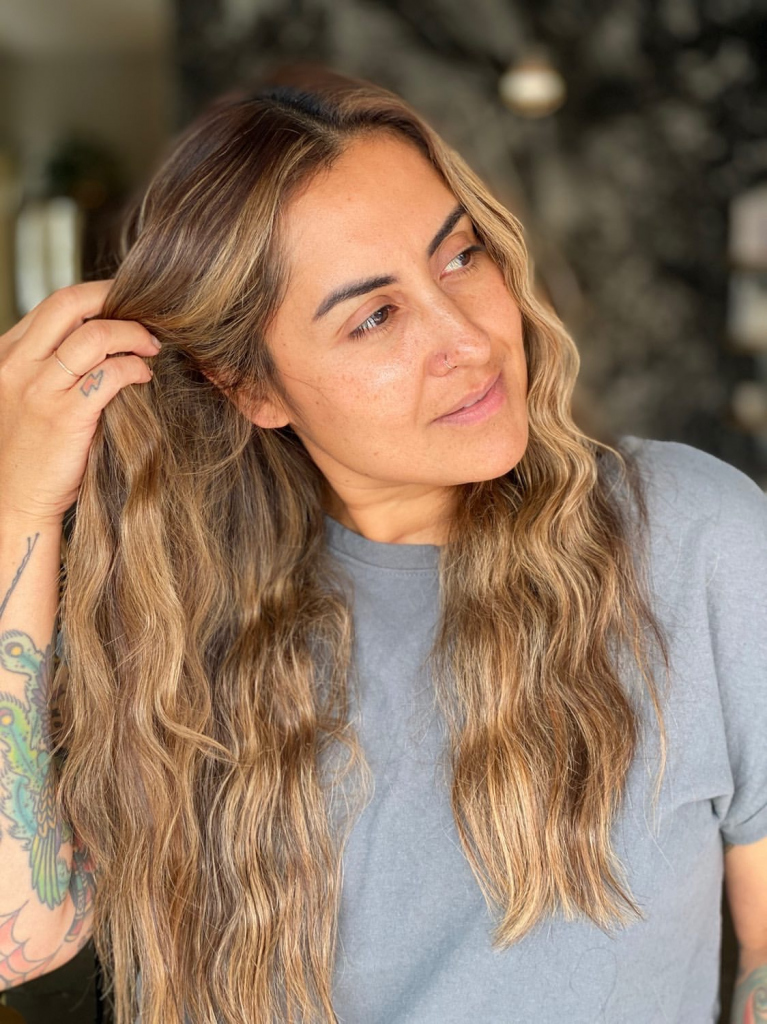 When brushing your hair and hair extensions, hold the top of your wefts to prevent any pulling and movement and start from the bottom and work your way up, this is the best way to prevent big tangles.
Washing & Hydrating
For the best results when washing your hair, brush first and then shampoo and condition gently between each row of wefts and rinse thoroughly. This will ensure there is no build up of product that may be difficult to remove later.
After washing your hair, apply an oil or serum to lock in the hydration, your hairstylist can recommend the best options for you. We also recommend using a hair mask once per week to seal in the hydration for the week.
Styling Products
To get the best out of your hair, and keep it looking nourished and sleek, stick to stylist recommended, salon quality products that are sulphate and paraben free.
When applying your products, make sure your hair is dry first as this is how they're most effective. Then when it comes to heat styling your hair, please use a heat protectant, trust us, you'll notice the difference.
Avoid Wet Hair
Dry hair is your best friend, when it comes to hair extensions, you want to avoid having wet hair for extended periods of time. We recommend, after showering, working out, or any water exposure, dry your hair as soon as possible, particularly the top of your hair where your wefts are tied.
This means no sleeping with wet hair! Once it's dried, you can style it in a bun or a loose braid to avoid tangles and breakage.
Advice for Swimming
If you plan on swimming in the pool or ocean, avoid getting your hair wet. If you have to submerge your head into the water, prior to swimming, rinse your hair with tap water and apply a leave-in conditioner, this will help to protect your hair.
Contrary to popular belief, don't braid your hair when you go swimming, instead of style your hair in tight low buns. Braiding your hair while wet is a myth that is very damaging. Keep an eye on our social media as I will be launching a video on the topic soon to explain more.
For more tips to maintain hair extensions and information about our luxury hand tied hair extensions, visit our website and follow me on Instagram at @nataliadidmyhair and @cooperativehair. As always, feel free to comment any questions below and I will get back to you!